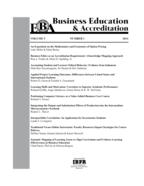 Business Education & Accreditation (BEA), ISSN: 1944-5903 (impresa) ISSN 2157-0809 (online), publica artículos de alta calidad en todas las áreas de educación de negocios, plan de estudios, métodos educativos, administración educativa, los avances en tecnología educativa y acreditación. Artículos Teóricas, empíricas y aplicadas son bienvenidos para consideración de publicación. La revista, publicada por primera vez en 2009, se publica una vez al año por el The Institute for Business and Finance Research, LLC. La aceptación general de la revista es 25 por ciento. La revista utiliza un proceso de revisión ciega (blind review process).
Distribución
Business Education & Accreditation (BEA) se distribuye en forma impresa, y electronica a través de  EBSCOHost, Research Papers in Economics (REpec) and the IBFR website.
Rankings
"Tier 2" ranking in Westminster College Journal Ranking (2014).
(Revista se clasifican con ranking 1-4 donde 1 es el mas alto.   Tier 2  define revistas de alta calidad, audiencia nacional, impacta la disciplines, teoría y práctica.
"C" ranking in Australian Business Deans Council Ranking (2013 edition solamente)
(Revista se clasifican de A, B, C, donde A es el ranking mas alto)
2018 Excellence in Research for Australia (ERA), Australian Research Council, organización del Gobierno Australiano.
 Inclusión en esta lista requiere que la revista reuna los requisites de calidad del Council.
Factor de Impacto
Available through Harzing's Publish or Perish
Junta Editorial
Árbitros
Ética en Publicación y Negligencia
Guía para formato
Proceso de revisión, tiempo y costo
Derechos de Autor (Copyright)
Envió para inicial proceso de arbitraje
Revista Archivo
Otras revistas del IBFR