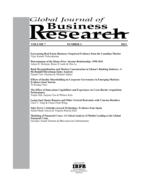 The Global Journal of Business Research (GJBR), ISSN: 1931-0277 (impresa) ISSN: 2157-0191 (online), publica artículo de alta calidad en todas las areas de negocios.  Artículos teóricos, empíricos y aplicados son bienvenidos para revision y posible  publicación.  GJBR, publicado por primera vez en el 2007,  se publica  una vez al año por el Institute for Business and Finance Research, LLC. GJBR tiene un porcentaje general de aceptación del 25 porciento. La revista utiliza revision siega (blind-review). Los autores reciben revision arbitral.
Distribution
Global Journal of Business Research (GJBR) se  distribuye en forma impresa  y electronica a través de  EBSCOHost, Research Papers in Economics (REpec) and the IBFR website.
Indexación
American Economic Association's Econlit, e-JEL and JEL on CD
Rankings
"A" ranking in Schulze, Warning and Wiermann (2008): Journal Ranking for Business Administration and Economics: Four Metaindexes.
(Revistas se clasifican A+, A, B, C, D or E.)
"Tier 2" ranking in Westminster College Journal Ranking (2014).
(Revistas se clasifican 1-4, siendo 1 el mas alto).  Tier 2 es para revistas definidas como : Revista de lata calidad, audiencia nacional, impacto en la discipline, teoriía y práctica)
"C" ranking in Australian Business Deans Council Ranking (2010 and 2013 editions solamente).
(Ranking es de  A, B or C,  A=Mas alto.)
2018 Excellence in Research for Australia (ERA), Australian Research Council, organización del Gobierno Australiano.
 Inclusión en esta lista requiere que la revista reuna los requisites de calidad del Council.
Factor de Impacto
Disponible a través de Harzing's Publish or Perish
Junta Editorial
Árbitros
Ética en Publicación y Negligencia
Guía para formato
Proceso de revisión, tiempo y costo
Derechos de autor (copyright)
Envió para inicial proceso de arbitraje
Archivo revistas completes
Otras revistas del IBFR