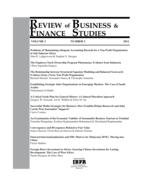 Review of Business and Finance Studies,  ISSN:2150-3338 (impresa) y ISSN 2156-8081 (online) publica artículos de alta calidad en todas las areas de business,  finance and areas afines.  Artículos teóricos, empíricos, aplicados y estudios de caso son bienvenidos para consideración para publicación. Estudios de casos puede ser basados en eventos realices o eventos hipoteticos.  La revista, publicada por primera vez en el 2010, se publica una vez al año por el Institute for Business and Finance Research, LLC.  La aceptación general de la revista es de in 25 por ciento.  Todos los artículos son sujetos a in proces de arbitraje ciego (blind review).
Distribucion
Review of Business & Finance Studies  se distribuye en forma impresa y electronica a través EBSCOHost, Research Papers in Economics (REpec) y el sitio del IBFR.
Impact Factors
Disponible a través de Publish or Perish y Research Papers in Economics (RePEc).
Junta Editorial
Árbitros
Ética en Publicación y Negligencia
Guía para format
Proceso de revisión, tiempo y costo
Derechos de autor (copyright)
Envió para inicial proceso de arbitraje
Archivo revistas
Otras revistas del IBFR