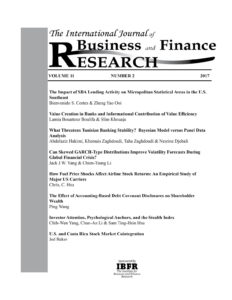 The International Journal of Business and Finance Research (IJBFR) publishes high-quality articles in all areas of finance, accounting and economics. Theoretical, empirical and applied manuscripts are welcome for publication consideration. The Journal, first published in 2007, is published two times per year by the Institute for Business and Finance Research, LLC. The Journal overall acceptance rate is between 5 and 10 percent. The Journal uses a blind review process.
Distribution
The Journal is distributed in print, and electronically through EBSCOHost, Social Science Research Network (SSRN), Research Papers in Economics (RePEc) and the IBFR website.
Indexing
American Economic Association's Econlit, e-JEL and JEL on CD.
ZBW Leibniz Information Center for Economics – EconBIZ
Notable Rankings
"A" ranking in Schulze, Warning and Wiermann (2008): Journal Ranking for Business Administration and Economics: Four Metaindexes
(Journals are ranked A+, A, B, C, D or E).
"Tier 2" Ranking in Westminster College Journal Ranking (2014)
(Rankings from 1-4 with 1= highest ranking).  A Tier 2 journal is defined as "High Quality Journal, National Audience, Impact on Disciplines Theory and Practice."
"C" ranking in Australian Business Deans Council Ranking (2010 and 2013 editions only)


(Journals are ranked A, B or C.  A=best)

"C" ranking in ERA 2010 Journal Ranking


(Journals are ranked A, B or C.  A=best)

2018 Excellence in Research for Australia (ERA), Australian Research Council, an organization of the Australian Government.
 Inclusion in this listing requires journals to meet the Council's peer review and quality standards.
 D ranking in Zeitschriftenliste Handlesblatt Ranking (2015)
  D ranking in ANVUR Ranking (2016).
(Journals are ranked A-E, A=Best).
D ranking in AIDEA Ranking (2015-2016).
(Journals are ranked A-D, A=Best).
 Ranked the 1,096th best journal from 2,653 journals ranked in
IDEAS/RePEc 2019 Aggregate Journal Rankings.
Impact Factor
Available through Harzing's Publish or Perish and Research Papers in Economics (RePEc)
Editorial Advisory Board
Reviewers
Statement of Ethics and Malpractice
Publication guidelines
Review process, cost and timeline
Copyright Information
Submit a paper
Journal past issues
Other IBFR Journals