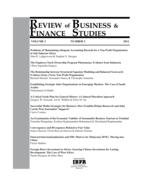 Review of Business and Finance Studies  (ISSN:2150-3338 [print] and ISSN 2156-8081 [online] ) publishes high-quality studies  in all areas of business finance and related fields.  Empirical, and theoretical papers as well as case studies are welcome. Cases can be based on real-world or hypothetical situations. The Journal is published once per year by the Institute for Business and Finance Research, LLC.  Journal overall accept rate is 25 percent. The Journal uses a blind review process.
Distribution
Review of Business & Finance Studies  is distributed in print, and electronically through EBSCOHost, Social Science Research Network (SSRN), Research Papers in Economics (RePEc) and the IBFR website.
Indexing
Indexed in ZBW Leibniz Information Center for Economics – EconBIZ
Notable Rankings
2018 Excellence in Research for Australia (ERA), Australian Research Council, an organization of the Australian Government.
    Inclusion in this listing requires journals to meet the Council's peer review and quality standards.
Ranked a D Journal in AIDEA 2015-2016 Journal Ranking
   (Journals are ranked A-D, A=Best)
Ranked the 1,892nd best journal from 2,653 journals ranked in
  IDEAS/RePEc 2019 Aggregate Rankings for Economics Journals.
Impact Factor
Available through Harzing's Publish or Perish and Research Papers in Economics (RePEc)
Editorial Advisory Board
Reviewers
Statement of ethics and malpractice
Publication guidelines
Review process, cost and timeline
Copyright information
Submit a paper
Journal past issues
Other IBFR journals