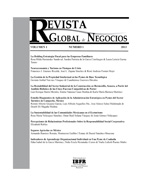 Revista Global de Negocios, [ISSN: 2328-4641 (print)  y ISSN: 2328-4668 (online), publishes high-quality articles in all areas of business. Theoretical, empirical and applied manuscripts are welcome for publication consideration. The journal is published in Spanish. The Journal, first published in 2013, is currently published twice per year by the Institute for Business and Finance Research, LLC. The Journal overall acceptance rate is 25 percent.  The Journal uses a blind reviewed process and authors receive reviewer comments.
Distribution
The Journal is distributed in print and electronically through The Institute for Business and Finance Research website, EBSCOHost, Research Papers in Economics (RePEc) and Social Science Research Network (SSRN).
Rankings
Ranked the 1,956 best journal from 2,653 journals ranked in
  IDEAS/RePEc 2019 Aggregate Rankings for Economics Journals.
Impact Factor
Available through Harzing's Publish or Perish and Research Papers in Economics (RePEc)
Editorial Advisory Board
Reviewers
Statement of Ethics and Malpractice
Publication guidelines
Review process, cost and timeline
Copyright Information
Submit a paper
Journal past issues
Other IBFR Journals